LONDON: British Prime Minister Boris Johnson's promotion of
, son-in-law of Infosys founder N R Narayana Murthy, to chancellor of the exchequer (finance minister) on Thursday places PIOs in two of Britain's great offices of state, the other being Priti Patel who remains home secretary after Johnson's first post-Brexit cabinet reshuffle.
There are now a total of four PIOs in Johnson's cabinet. Reading MP Alok Sharma (52) has been promoted to secretary of state for business, energy and industrial strategy, and ex-barrister Suella Braverman (39) has been appointed attorney general, the government's most senior law officer.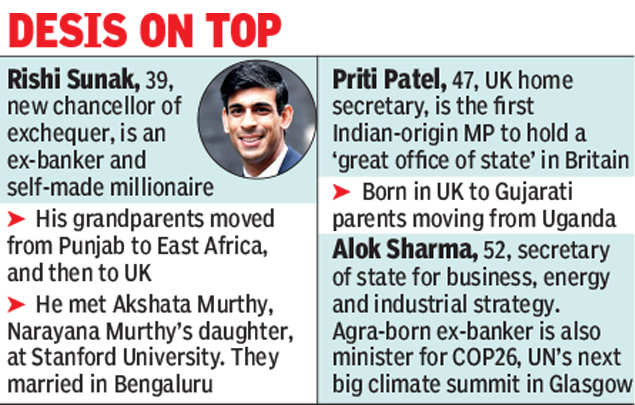 Sunak was promoted to chancellor following Pakistan-origin Sajid Javid's dramatic resignation on Thursday. The chancellor has overall responsibility for the work of the Treasury and is considered to the secondmost powerful role in government. The four great offices of state are that of the prime minister, chancellor of the exchequer, foreign secretary and home secretary.
Sunak has less than a month to present his first budgetRishi Sunak, who was previously Sajid Javid's number two as chief secretary to the Treasury, will now move into his former boss's home at Number 11, Downing Street. He has less than a month to deliver his first budget on March 11. The pound jumped to a two-month high against the euro as financial markets embraced the news, predicting his policies and his cordial relations with No. 10 Downing Street would boost growth.
The 39-year-old ex-banker and self-made millionaire, who voted "leave" in the EU referendum, has been considered a rising star in the Tory party for some time and has frequently been making media appearances to talk up the case for Brexit.
The son of a Pakistani bus driver, Javid resigned after a row with British Pri me Minister Boris Johnson. The PM demanded that Javid fire all five of his most senior aides and replace them with advisers loyal to No. 10 Downing Street. However, the chancellor refused and quit.
A Conservative party source said: "Even when Boris was mayor he put his own people around him. He wants people that are 100% behind him and his vision of Brexit. Sajid Javid's office has been leaking stuff and going against the government brief. Javid has been giving interviews to the media saying Brexit will be difficult. Boris wants people that will go to the EU and tell them what we are going to do. Rishi has been much more optimistic about Brexit and more methodical about assessing its impact."
Sunak was born in Southampton and is the son of G P Yashvir and pharmacist mother Usha. He spent his professional career working for Goldman Sachs and a hedge fund. He co-founded an investment fund and used that experience to help small and entrepreneurial British companies grow.
Sunak's grandparents moved from Punjab to Africa and then to the UK. He has been a Conservative MP for Richmond in Yorkshire since 2015.
Priti Patel, the UK's first Gujarati woman MP, made history in July when she became the first Indian-origin MP to hold one of the great offices of state as home secretary. Indian diplomatic sources told TOI that Patel was scheduled to visit India next week to get the ball rolling on post-Brexit trade talks. The home office has not confirmed the trip.
Agra-born Alok Sharma, previously secretary of state for international development, replaces former Conservative leadership candidate Andrea Leadsom, who was on Thursday sacked as business secretary.